New one skein wonder: Gossamer shawl
July 31, 2020
By Janina Kallio
---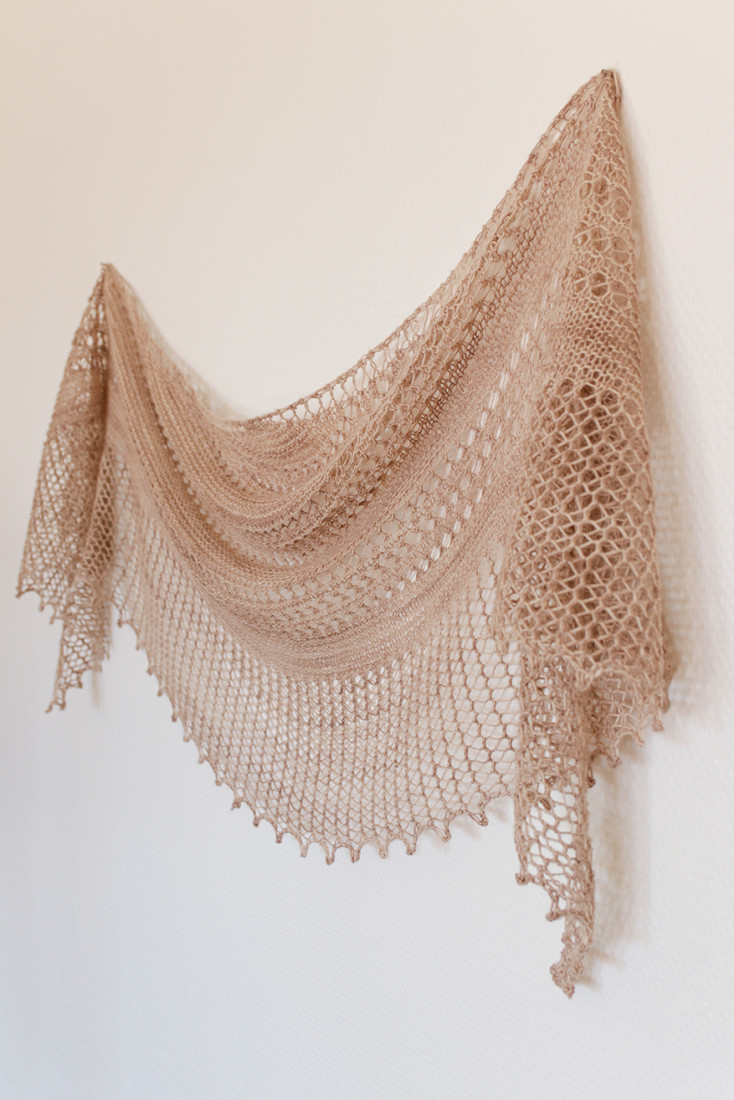 Say hello to Gossamer, my 100th design!
Delicate and airy, Gossamer is a quick-to-knit one skein wonder.
It's knitted from the top down to a crescent shape. This beautiful shawlette is easy to wrap around your neck in multiple ways.
You work the body alternating garter stitch and fishnet lace sections. Then you polish it off with a crisp lace border and picot bind off. Gossamer is an addictive knit – just one more row!
And yes, Gossamer is also included in the Buy 2 + Get 1 Free sale! The sale ends this Friday, so if there are patterns you have your heart set on, don't miss this chance.
Gossamer is a one skein wonder for those treasured single skeins in your stash. You'll need about 366 m / 400 yds of fingering weight yarn.
But if you have more yarn and want to make your shawl bigger, you can work additional body section repeats before beginning the lace border. You can also work fewer or additional lace border repeats depending on how much yarn you have left.
It's super easy to make Gossamer your own and use every last inch of that special yarn you've been saving.
I used one skein of Lichen and Lace 1ply Superwash Merino Fingering (100% merino wool; 366 m / 400 yds per 100 g) in colourway Linen.
If you enjoyed Sprinkles, you'll love this one. It has the same elements, garter stitch, fishnet lace and picot bind off, but in a new rhythm, combo and shape. While Sprinkles is an asymmetric triangle, Gossamer is a crescent shaped shawl.
The garter stitch body is decorated with horizontal lace stripes that keep you engaged. And before you know it, you're already knitting the border with a simple yet striking fishnet lace.
My Gossamer has a soft and muted colourway, but bright colours will make a vibrant shawl for summer and autumn!
As a one skein wonder, Gossamer is perfect for those single skeins we all have. What treasures do you have in your stash?
The pattern has both written and charted instructions, so you can use whichever you find easiest to follow.