New one skein wonder: Sprinkles shawl
October 25, 2019
By Janina Kallio
---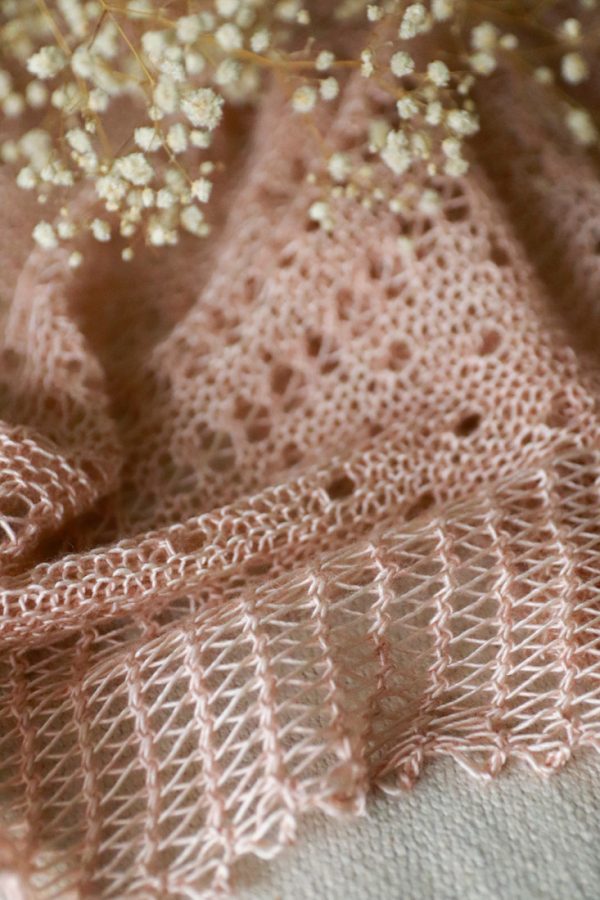 Sometimes inspiration smacks you in the head so hard that you must act on it immediately. When the vision for Sprinkles came to my mind's eye, I had to cast on right then and there and had a hard time putting my needles down. "Just one more row…"
Which means that now you can have Sprinkles on your needles, too!
If you enjoyed Drops of Joy, you'll love this one. It has the same elements, fishnet lace and eyelets, but in a new combo and rhythm. The shape is also different. While Drops of Joy is a crescent shawl, Sprinkles is an elongated and asymmetric triangle.
The garter stitch body is dotted with diagonally moving eyelets. Horizontal lace stripes break the eyelet pattern and keep you engaged. And before you know it, you're already knitting the border with a simple yet striking fishnet lace.
Sprinkles is such an enjoyable knit that while you're binding off, you'll be dreaming of what yarn to use for your second one. I know I did!
As a one skein wonder, Sprinkles is perfect for those single skeins in your stash. What treasures will you find?
I used Dragon Strings Siren Hair High Twist (70% merino, 30% silk; 400 m / 438 yds per 100 g). This yarn is sadly discontinued, but you will have no trouble finding a substitute. Merino-silk blends and single-ply merinos will drape beautifully. And if you want your shawl to have more structure, BFL wool or wool-linen blends will do the trick.
My Sprinkles has a soft colourway, but a vibrant and earthy tone would make a gorgeous autumn shawl!
The pattern has both written and charted instructions.
Cast on today and share your progress on Instagram with #woolenberry. Can't wait to see your knits!