Rosewater: A quick to knit one skein shawl
June 14, 2019
By Janina Kallio
---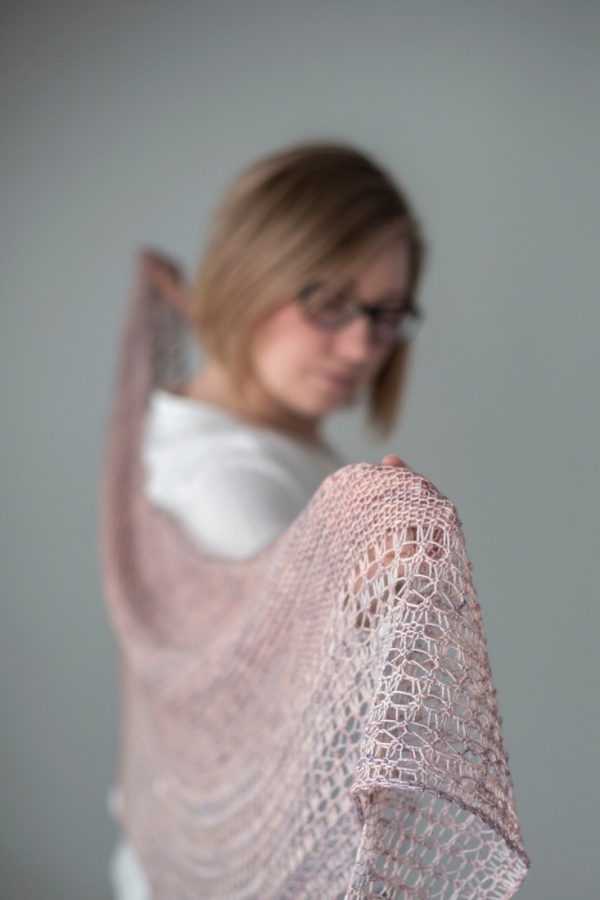 Little did I know back in the summer of 2015 when I designed Rosewater, that it would become one of my most popular patterns. Thousands of knitters around the world have knitted Rosewater, and I'm guessing you have, too. Maybe even several? It's one of those shawls that you keep coming back to again and again.
If you haven't knitted Rosewater yet, I must warn you, it's just a matter of time.
What makes Rosewater so popular?
I don't really know what the magic ingredient is that makes Rosewater so irresistible. Maybe it's the combination of garter stitch and modern lace. Or maybe it's because you get such gorgeous results with simple and effortless knitting.
And the fact that it's a perfect project for those single skeins in your stash doesn't hurt either. Pretty much every knitter I know – in real life or online – has a special skein that's just waiting for the perfect project.
The pattern now has both written and charted instructions.
The original Rosewater pattern with written instructions has served many knitters for years, but every now and then I get requests for charted instructions. And I'm happy to let you know that your wishes have been fulfilled! The updated pattern now includes a chart for the lace. But if you don't like charts, don't worry, you can still knit the shawl by following the line-by-line written instructions.
If you've previously purchased Rosewater, you received an email earlier today from Ravelry with a link to download the updated pattern.
What yarn to choose?
You can use your favourite fingering weight yarn for your Rosewater. Or try something new! I knitted mine with Madelinetosh Tosh Sock in one of my favourite colours, Calligraphy. And I've seen beautiful Rosewater shawls knitted with Holst Garn Supersoft, Manos del Uruguay Fino, The Fibre Co. Meadow and Hedgehog Fibres Sock, to name a few.
But what if you want to make yours bigger?
This is also a question I get asked a lot, so I added instructions on how to make your Rosewater shawl bigger to the pattern. So if you happen to have more than one skein of that special yarn, you can now use every single gram of it!