Sneak peek: Linum shawl
July 26, 2019
By Janina Kallio
---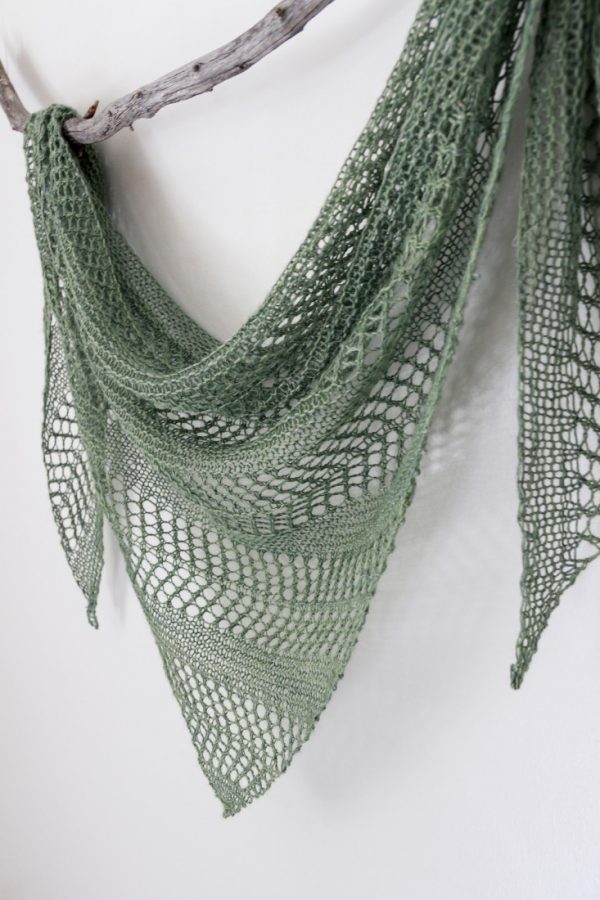 I have a new shawl to share with you: Linum will go live next Thursday!
I wanted to knit an airy and light summer shawl with a modern look. A quick scan through my stash, and I found the perfect yarn for it. I've had that skein for years, just waiting for the right project.
The yarn is WalkCollection Linea (50% Alpaca, 25% Silk, 25% Linen; 400 m / 437 yds per 100 g) and I used a colourway called Jade. One skein was enough to make this beautiful shawl.
I love linen yarns in the summer.
And they block beautifully, too, making them perfect for lace projects. The alpaca in the mix makes the yarn wonderfully soft and the silk adds shine. To put it simply: I'm in love with this yarn!
But you can use pretty much any yarn you want for Linum.
Simply pick your favourite skein and cast on. My shawl is fingering weight, but the pattern is easy to modify. You can use lighter or heavier yarns. Or make yours larger, if you have more yarn.
I knitted my Linum while on holiday and it was a very relaxing project to have on the needles.
Easy to knit a few rows here and there, and small and light enough on my lap during the hot summer days.
I finished and blocked the shawl on Tuesday and the pattern is now being reviewed by my tech editor Pauliina. And next week you can have it on your needles, too! There's also going to be optional charted instructions in the pattern for those who like charts.
So, start digging through your stash and get ready for the pattern release next Thursday.
When you've chosen your yarn, please share it on Instagram with #woolenberry. I can't wait to see what you'll choose!