Sneak peek: Thames shawl (Mix & Match)
December 31, 2019
By Janina Kallio
---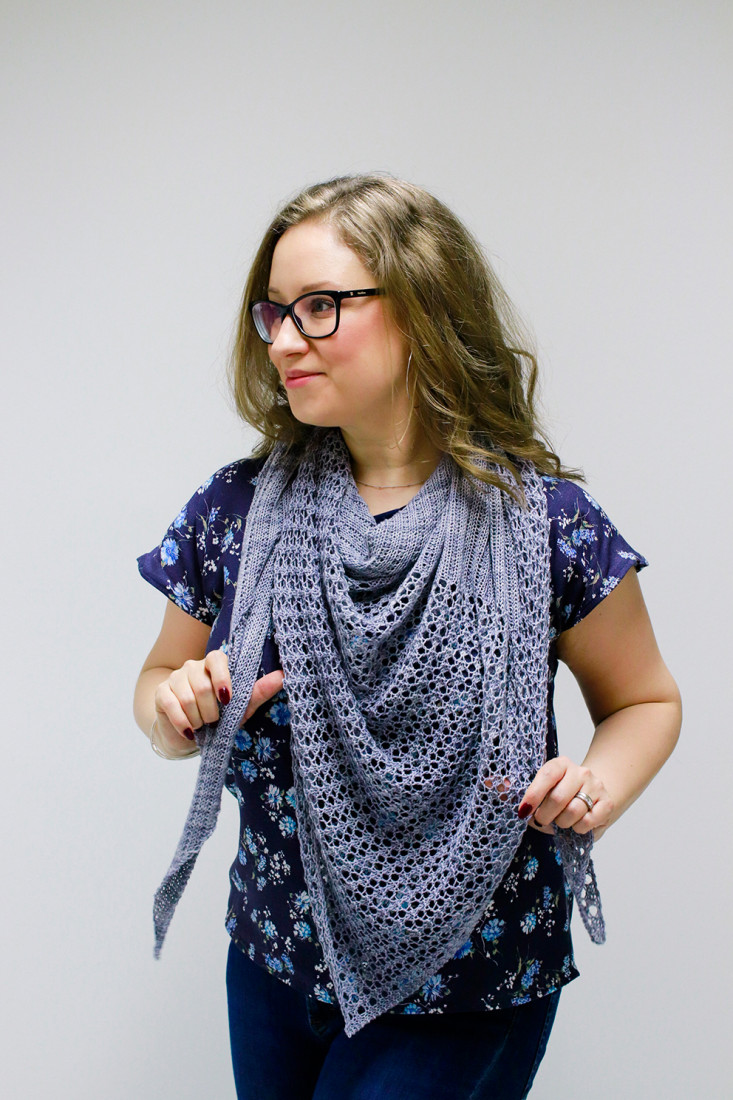 Last April, after sitting on the idea for years and creating a few failed attempts that never saw the light of day, I finally revealed a new concept, Mix & Match. Shawl patterns with interchangeable body and border sections that you can combine in different ways to create your own shawl adventure.
So many knitters loved the Mix & Match – Rivers collection. And so did I! Those shawls were super fun to design and knit, so I simply had to do more.
Today I'm excited to show you a sneak peek of Thames, an independent add-on to the Mix & Match – Rivers collection. (That's me with Thames above, also rocking my new Seamwork Akita shirt which I sewed very late on Sunday night :)
Thames is an asymmetric triangle shawl. The textured body has vertical twisted stitch columns on reverse stockinette stitch. They create vertical stripes and add texture and rhythm. On the reverse side, you'll have neat stockinette stitch with vertical lines of twisted purl stitches.
The delicate and crisp lace border adds an airiness to the shawl. You work the lace on garter stitch, so it has no purl stitches and looks good on both sides.
I knitted my Thames with two skeins of Malabrigo Sock (100% merino; 402 m / 440 yds per 100 g) in Polar Morn. If you want to substitute, you'll need about 664 m / 726 yds of fingering weight yarn.
You don't need the Mix & Match – Rivers collection to knit Thames, but if you have the collection, you've got loads of options to create your own shawl adventure.
Thames will be available on Ravelry on Friday, January 3rd 2020.
If you've joined me on Patreon, you'll get either a discount code or a free download code for Thames, depending on your membership level. Sparrows will get a discount code for Thames. Dotterels and Magpies will get a code to download Thames for free. You can join Patreon here.
Sign up to my free e-letters to get notified as soon as Thames goes live!