Sneak peek: Winds of Autumn shawl
August 26, 2019
By Janina Kallio
---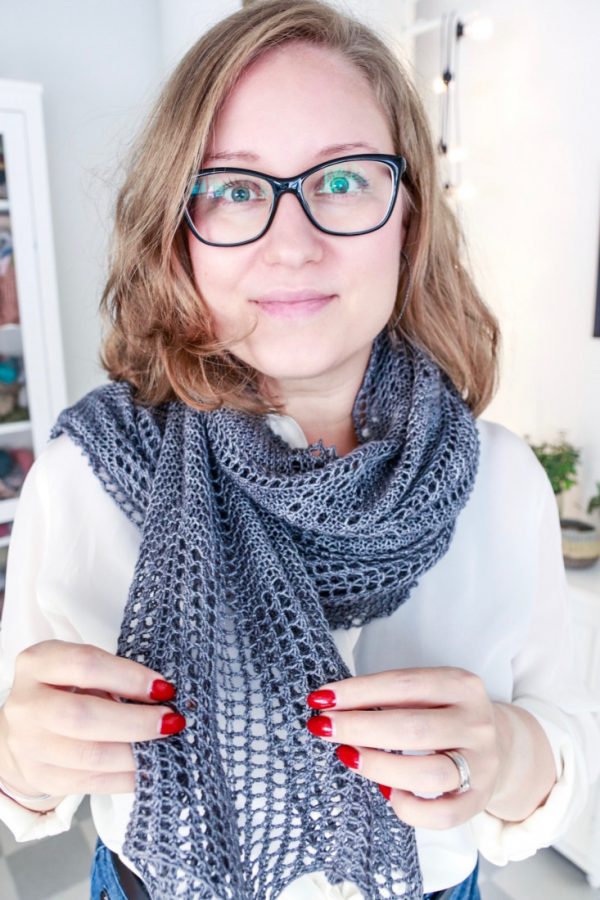 It's been raining like crazy here lately, so I finished my shawl sooner than I thought. (And incidentally also ran out of Modern Family episodes on Netflix…)
But it means that I can now share a sneak peek of Winds of Autumn with you!
Winds of Autumn is inspired by the gorgeous grey yarn I had in my stash, just waiting for the right project. The yarn is Fyberspates Vivacious 4 ply (100% Merino; 365 m / 399 yds per 100 g) in the Slate colourway. It just begged to be turned into a sleek and chic wrap with clean lines. And I was happy to oblige!
Winds of Autumn is the third shawl in the 2019 Shawl Club.
The pattern goes live later this week and it's only available to Shawl Club members.
If you're not a 2019 Shawl Club member yet, it's not too late to join!
You can join the 2019 Shawl Club here. You get the two previously released patterns (Waiting for Spring and Endless Summer) right away. I'll send Winds of Autumn to you later this week as soon as it goes live. And the next and last Shawl Club pattern will arrive in your inbox in November.
You'll need two skeins of fingering weight yarn for Winds of Autumn (about 584 m / 639 yds). But if you want to make a warm and cosy winter version, DK yarns work well too. As usual, this shawl needs to be blocked by really stretching it, so pick a yarn that blocks well.
Get your yarn and needles ready. Winds of Autumn will be here soon!
Share your yarns with hashtag #woolenberry on Instagram. Can't wait to see your yarn choices!