Knitter Spotlight: Nancy (Wheelswife on Ravelry)
June 8, 2017
By Janina Kallio
---
After our recent visit with Ingrid in Ontario a few months ago, we're back in Canada to meet with another lovely knitter. This time we are all invited to the Atlantic Coast, where Nancy (Wheelswife on Ravelry) is most likely knitting on the beach or under a tree.
Owner of a family run wine-making business, Nancy is a real bon vivant. She surely knows how to enjoy the simple things in life, and knitting is the one that relaxes her the most …along with a delicious glass of wine, naturally. Pour yourself a glass and let's go meet her.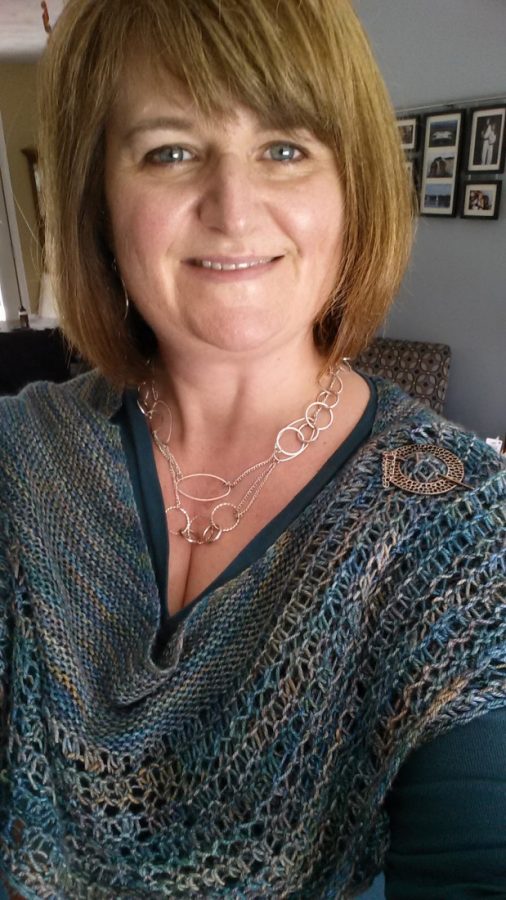 First name: Nancy
Ravelry name: Wheelswife
Instagram: @wheelswife
From: Moncton, New Brunswick, Canada
I learned to knit… when I was about 6 or 7. My Mum taught me because I was bothering her while she was knitting. So she cast on 10 stitches, in an acrylic baby yarn for me on straight needles and I made all of my Cindys (like a Barbie) dolls scarves.
I usually knit at/with… I will take my knitting with me anywhere, but I am quite a homebody, so I am usually at home. I don't know a lot of knitters in real life, so I love the companionship of online knitting friends.
My typical day… I run a small wine-making business, with my husband and a small staff that keeps me busy about 4 days a week. I talk about and make wine all day and then drink it in the evening. My knitting project choice is often influenced by the amount of wine that I have enjoyed… no serious lace or cabling after 2 glasses ;). Knitting or crafting of any kind in the evenings has been a wonderful stress reliever for most of my adult life and happens every day. Now, with Ravelry and other social media, making connections with crafters around the world is a joy! We are happily "empty nesters" with both of our adult kids out in the world.
My favorite things about the place I live… We live on the Atlantic Coast of Canada, so I love to scoop up a knitting project bag and drive about 30 minutes to one of my favorite beaches. I flop down on the sand, people watch, knit a sock and listen to the waves… BLISS. My husband and I also love to drive around in our 1960 Convertible Thunderbird and explore country roads. We pack a picnic and find a spot with a gorgeous view to enjoy a bottle of wine. He naps and I knit :)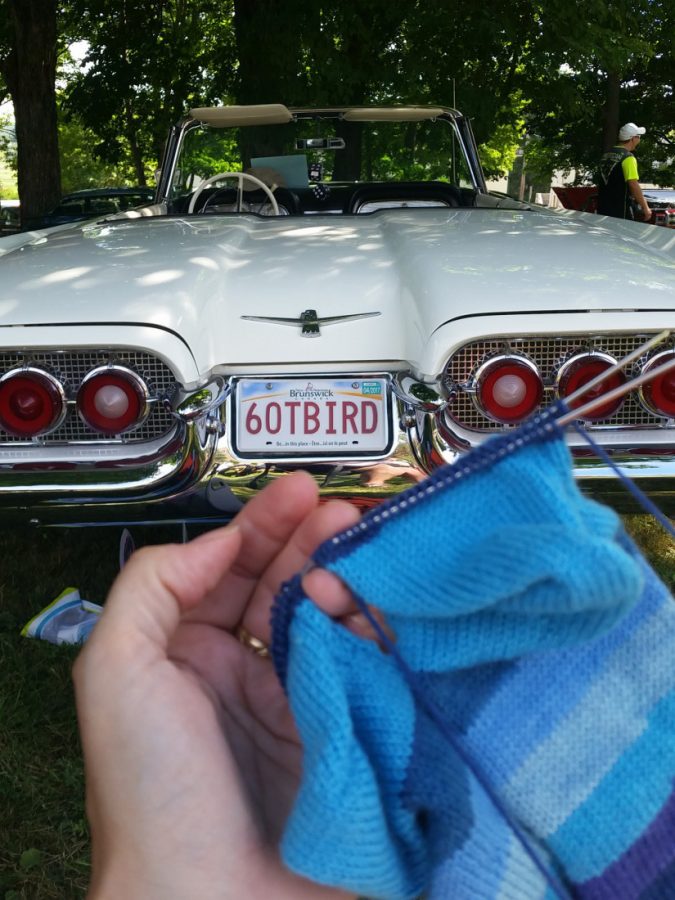 My favorite time of the year is… Autumn. The colour of leaves changing and blue skies are just beautiful in this part of the world. The flowers are still blooming and the humidity subsides, so it is lovely to be out enjoying it. Unfortunately, that means winter is not far away… BRRR!
My favorite travel destination(s)… I was born in England and lived there until I was 13 and love going back to visit. I am a huge history geek and love castles, museums and cathedrals. I have lots of places that I would like to visit… someday!
My favorite yarn is… Too many… I can't choose! It is like trying to pick my favourite child.
The first project I ever knitted… As a child, doll's scarves and then baby booties. As an adult, picking up knitting again in my forties, it was socks, quickly followed with shawls. Janina's Citadel was the first shawl pattern that I ever made and I was hooked.
My favorite color is… Purple, Blue, Green… think a peacock feather and those are my favourites.
Right now I have on my needles… 2 sweaters, 2 pairs of socks and a shawl (Wildheart).
Next project on my needles will be… another summer weight sweater, my Mum just put in an order for new socks (ha ha!) and always shawls.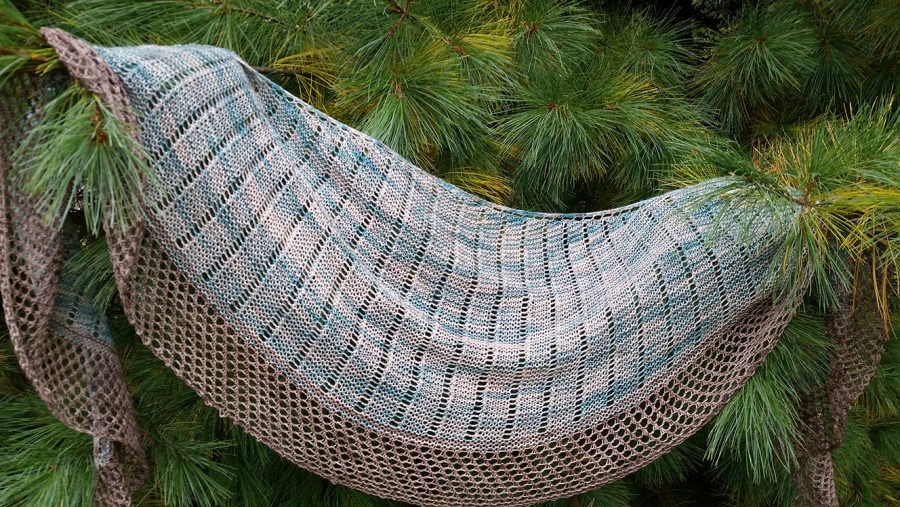 My other creative passions include… I love needlework and that was my passion in my 20's and 30's… Hardanger embroidery and cross stitch.
I'm very good at… procrastinating, usually to knit another row.
I make the most delicious… ribs & cornbread.
Things most people might not know about me… I'm very shy… My work is customer service oriented and I am very chatty and comfortable in that environment… Helloooo, it's wine… But the thought of going to a party or social event is paralyzing. People are shocked when I describe myself as shy or an introvert.
Something I'd still love to do in this lifetime is… travel more!! We are limited at the moment by our small family run business, but that is definitely going to happen in the future.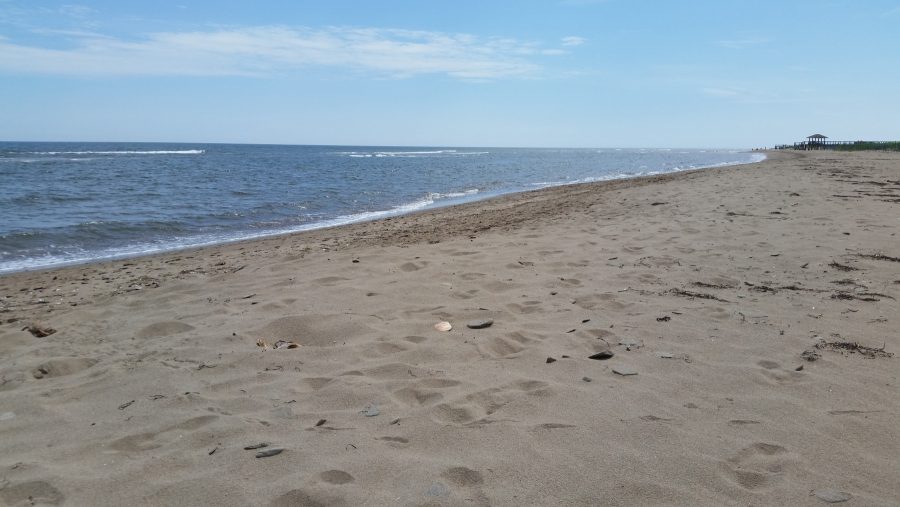 All photos ©Nancy/Wheelswife