New rectangle shawl with simple lace: Flourish
June 23, 2022
By Janina Kallio
---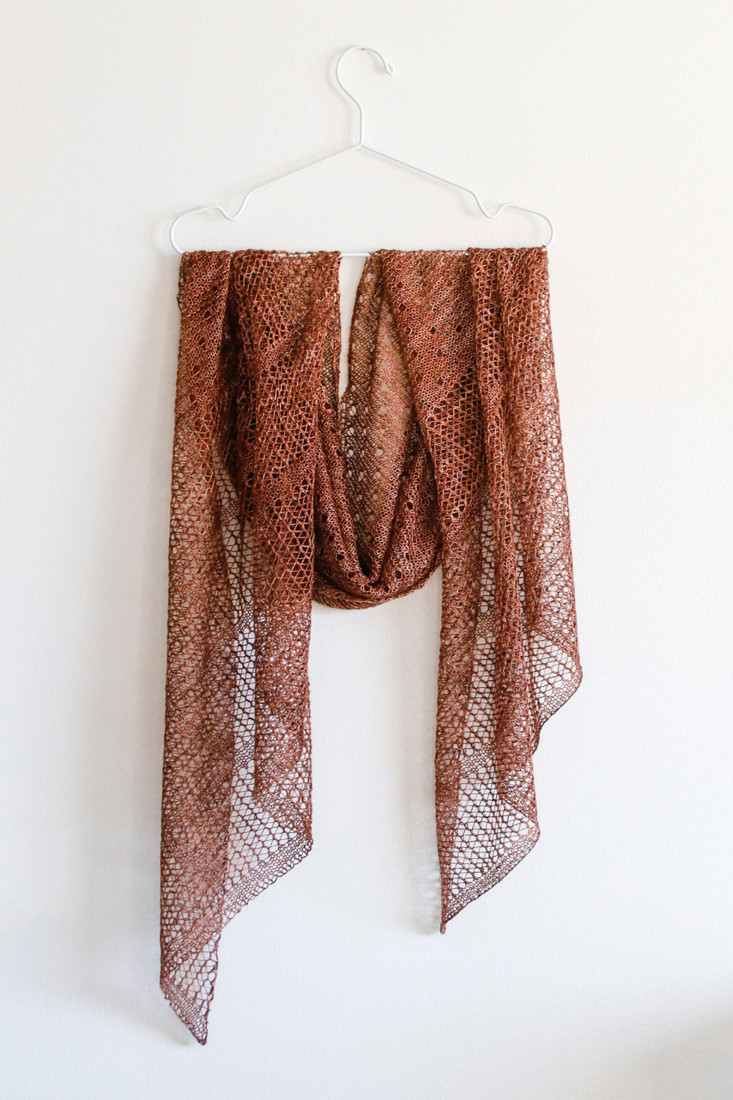 Flourish is the second pattern in this year's shawl club
Flourish is a light, ethereal rectangle shawl with simple lace and garter stitch.
The diagonally shifting stitch patterns add movement and interest to the shawl.
Both ends have delicate fishnet lace with narrow garter stitch stripes. The centre of the shawl has eyelets sprinkled along the garter stitch.
And there's not a single purl stitch!
You work Flourish on the bias with increases on one edge and decreases on the other, creating a fun parallelogram shape with tapered ends.
This is quite a large shawl, even though it weighs only 95 grams!
But if you want to make yours smaller or even bigger, I've included instructions on adjusting the width and length.
I used one skein of Fyberspates Gleem Lace (55% BFL wool, 45% silk; 800 m / 874 yds per 100 g) in colour Copper Tones.
It's yet another deep dive from my stash. This yarn has been sitting and simmering there for a long time, waiting for the right project.
Perhaps you also have a perfect match for Flourish already in your stash?
You'll need about 760 m / 830 yds of lace weight yarn.
The stitch definition is not essential for this project, so you can choose any yarn you want.
If the idea of knitting with lace weight yarn makes your skin crawl, you can substitute it for a heavier weight yarn.
Fingering weight yarn will still create a lightweight summer shawl, while with DK to worsted, you'll get a warm and cosy wrap for autumn evenings and crisp snow days.
Flourish is only available to members of the 2022 Shawl Club.
If you haven't joined us yet, it's not too late!
By joining now, you get instant access to First Blooms and Flourish patterns.
The remaining 2022 Shawl Club patterns will be out in September and December.
P.S. Share your progress on Instagram with #woolenberry and create a project page on Ravelry. I love seeing your knits!