On my needles: New rectangle shawl with Eden Cottage Yarns
July 3, 2018
By Janina Kallio
---
I've cast on for a new shawl pattern with Eden Cottage Yarns Bowland 4ply.
Eden Cottage Yarns is one of my favourites, so I've been really looking forward to casting on these beauties.
I think BFL (Bluefaced Leicester) is underrated for shawls. It blocks beautifully and is very durable. I'm using the Fern colourway, slightly brighter than my usual choices. But hey, it's summer!
This time I'm making a rectangle shawl, but with a bias construction.
The shawl is a combo of garter stitch and pretty lace. And because of the bias construction, they're diagonally aligned. That creates a dynamic look and is also fun to knit.
I get a lot of requests for rectangle shawls, so I'm happy to finally design another one for you. (I know, it's been too long since Shine.)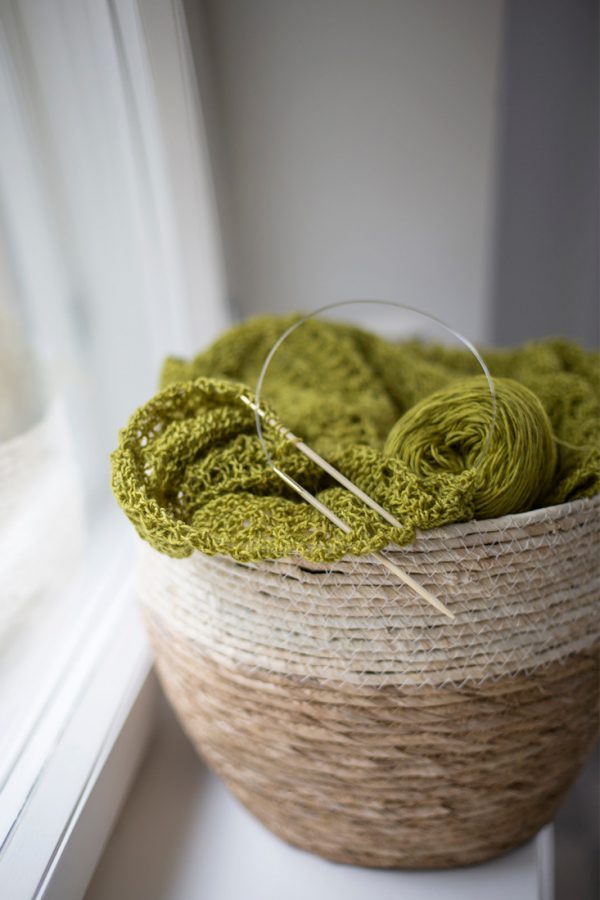 I've really enjoyed knitting this shawl.
The lace looks complicated, but after a few repeats you learn the rhythm and then it's a breeze. This will be a perfect project for relaxing and knitting on the porch. Or for a knitflix binge with white wine (ask me how I know… :).
You can follow along my progress on @woolenberry Instagram. And if you want to get notified when the pattern goes live, sign up to my e-letters here. I'll keep you posted!