Sneak peek: Autumn Woods shawl (Plus new pattern features!)
October 17, 2018
By Janina Kallio
---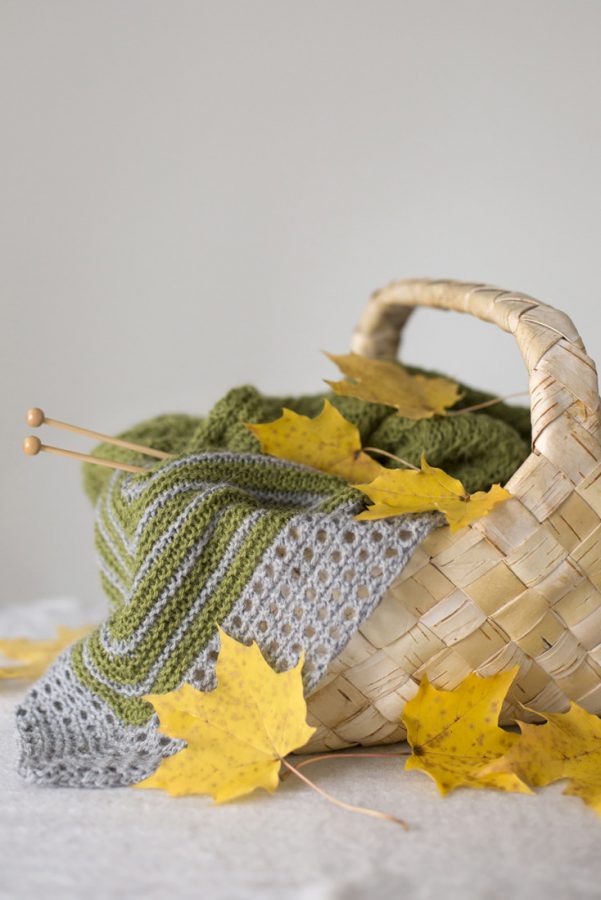 Save the date! The third shawl in the 2018 Shawl Club, Autumn Woods, goes live this Friday. It's warm and rustic and perfect for cosying up on the couch with wool and needles.
But before I tell you more about Autumn Woods, I want to let you know about new pattern features. I've received a lot of requests for charted instructions and I'm happy to tell you that charts will be added to future Woolenberry patterns. Starting with Autumn Woods! But if charts make your skin crawl, don't worry. All the instructions are still (and will forever and always be) fully written out also.
In addition to charts, I've added other helpful information to this pattern.
One major pain point is always the size of the finished shawl and the role of blocking. This time I tried to make the blocking instructions even more clear and precise. And I also added a table of detailed stitch counts to the pattern. So if you want to keep tabs on correct stitch counts while your knitting, I've got you covered.
My goal is to create patterns that are a joy to knit and accomplish a desired outcome. If there's anything that would make the patterns even better for you, I'm always happy to hear your thoughts. After all, it's you who I write these patterns for!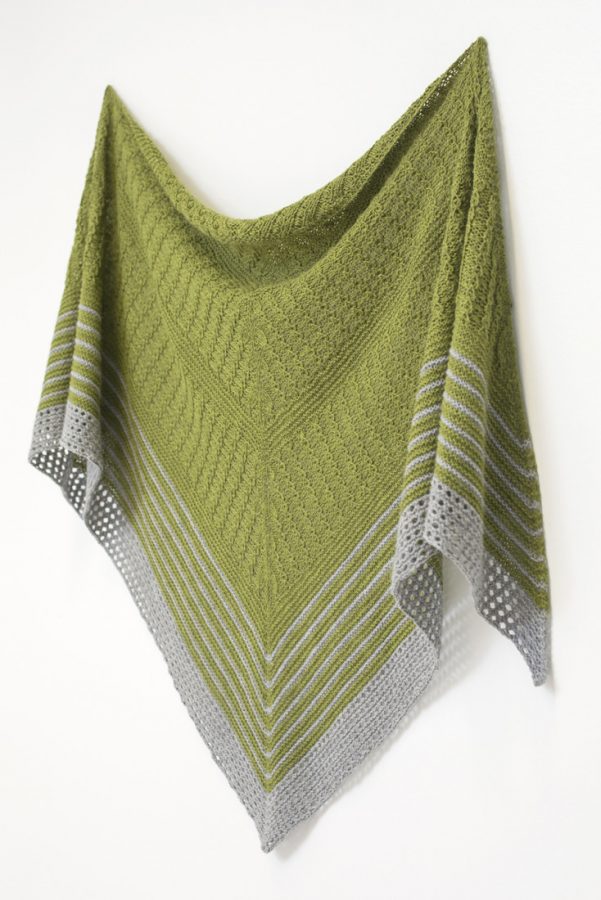 Autumn Woods is a beautiful two-colour shawl with lots of rustic texture.
The deeply textured ribbing looks different on both sides and is so enjoyable to knit you won't want to put your needles down. String of hearts run along the right side of the ribbing pattern and the wrong side has vertical bands of small faux-bobbles. Stripes and a lace border in a contrasting colour offer a dose of colour therapy. Have fun choosing your colours!
The yarn I chose for Autumn Woods is Walcot Yarns Opus (70% Merino, 30% Alpaca; 325 m / 355 yds per 100 g). As soon as I saw the yarn at Jyväskylä Knit Fest in July, I knew it would be perfect for the Shawl Club's autumn pattern. It's soft and plump and wonderful to knit with. The colourways I used are Greenery and Grey. If you're substituting with other yarns, look for similar yarns that are heavy fingering or maybe even sport weight. You'll need 624 m / 682 yds of colour 1 and 234 m / 256 yds of colour 2.
Autumn Woods is exclusive to 2018 Shawl Club members until January 2019.
If you're already a member, I'll email you on Friday as soon as the pattern goes live and you can immediately cast on.
Haven't joined the 2018 Shawl Club yet? It's not too late! Come celebrate the seasons with us and join now. You get immediate access to Spring Bloom and Summer Meadow, and I'll send Autumn Woods to you on Friday. And there's one more pattern to come – a DK weight winter shawl coming in November.
Join the 2018 Shawl Club here!