Coming soon: Summer shawl for the 2019 Shawl Club
April 12, 2019
By Janina Kallio
---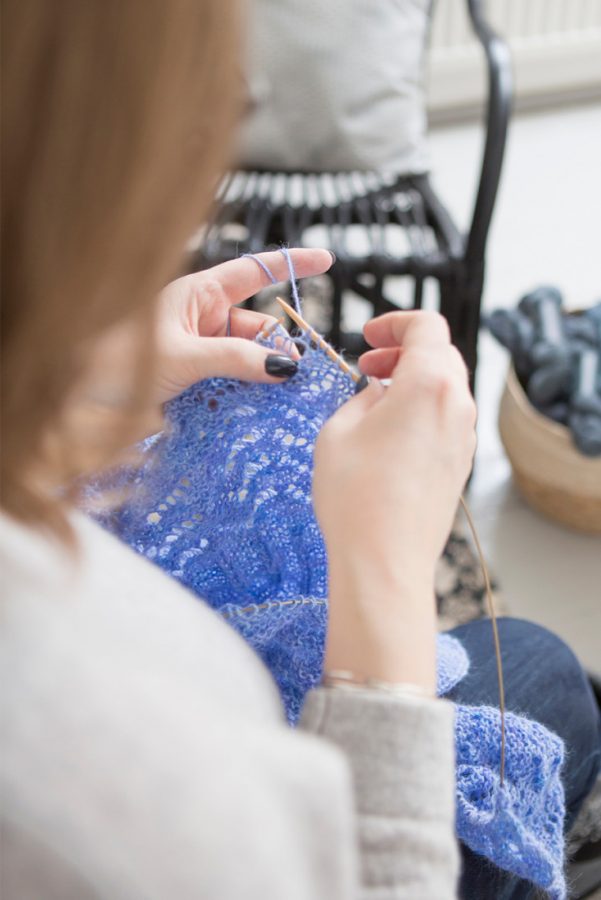 These last couple of weeks I've been busy working on the summer shawl for the 2019 Woolenberry Shawl Club.
I'm now on the home stretch and plan to indulge in the last few rows (with a glass or two of chilled riesling) this weekend.
I'm calling this shawl Endless Summer because it reminds me of my grandma's flower garden. It's been wonderful to knit and I'm so happy that I accidentally came up with the pattern.
I spend a lot of time swatching stitch patterns and trying out different yarn and pattern combinations.
One morning, mid-coffee, I got an idea which I simply had to swatch for immediately. But of course all my needles already had random swatches on them. So I picked up an old swatch-in-progress and continued it with a new swatch. When inspiration strikes, there's no time for organisation or hunting for empty needles!
Even though the two stitch patterns on the swatch were never meant to be used in the same design, I loved how they looked together. So I changed my plans and began aligning them for a perfect fit. A couple more cups of coffee, and all the swatching and math for Endless Summer were done. I wish it was always that easy!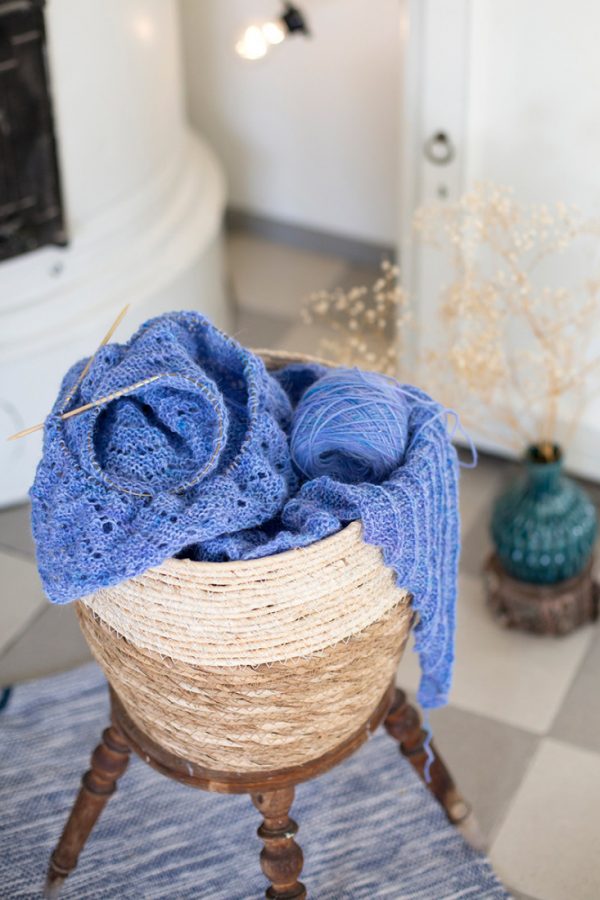 Endless Summer is a large and lofty asymmetric triangle.
It has garter stitch with vertical stockinette ridges and a chevron lace border. Both stitch patterns are very relaxing to knit. Pair them with gorgeous yarn and you won't want to put your knitting down!
I'm using Mythica Fibers Alpaca Fingering in the Hydrangea colourway.
I first cast on Endless Summer with Primrose Yarn Co. Adelaide, but then switched to this yarn because these skeins were calling to me loudly.
If you're feeling their pull, too, you can get this same yarn from the Mythica Fibers Etsy shop. You'll need two skeins for this shawl. Or you can substitute with your own favourite fingering weight yarn.
If you're already choosing colours for this shawl, keep in mind that highly variegated yarns will make its delicate texture and lace invisible. Those yarns are best saved for something more straightforward, like Herald. Solid and semi-solid colours work best with Endless Summer. And a little bit of subtle speckles is always a good idea!
Endless Summer goes live in May and is exclusive to the 2019 Shawl Club.
If you haven't joined the club yet, it's not too late! The club includes 4 shawl patterns, inspired by the changing seasons.
By joining now, you get immediate access to the first club shawl, Waiting for Spring. And Endless Summer will pop into your inbox and Ravelry library as soon as it's released in May.
The autumn shawl is planned for September and the winter shawl for November. I can't wait to start swatching for them!