How and why to swatch for shawls
October 24, 2018
By Janina Kallio
---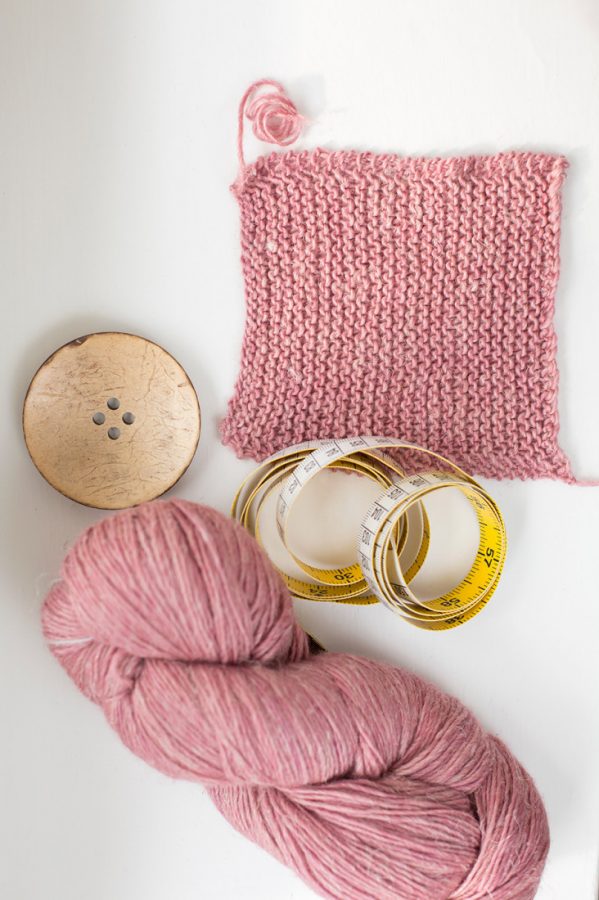 I know swatching isn't on top of your favourite things to do, but it's a step that you shouldn't skip.
Yes, even when knitting shawls. By swatching, you find the right needle size for your project and make sure your shawl turns out the same size as in the pattern. And that your yarn isn't going to run out!
But how do you swatch for shawls? Let's go over it step by step.
Knit your swatch with the stitch pattern specified in the pattern. For Woolenberry shawls, this is usually garter stitch. (Like in my swatch above for Late Harvest shawl.) But always check the instructions to see what you need to use for the shawl you're working on. Unlike with fitted garments, you measure the gauge in Woolenberry shawls from the unblocked knit. So you don't even need to block your gauge swatch either. Simply calculate the gauge from it as it comes off the needles.
Make sure your swatch is large enough. Gauge is measured from a 10-cm / 4-inch square so you need a swatch that is at least 13 cm / 5 inches in width and length. This is because the edge stitches behave differently and aren't reliable when measuring gauge. Count both the stitch and row gauge and measure both from more than one spot.
Adjust the needle size as needed until you reach the gauge stated in the pattern. This ensures that you'll be able to block your shawl to the same size as the sample and that you won't have too much yarn left over. You want to use every inch of that precious yarn, don't you? If you have trouble matching both stitch and row gauge, go with the needle size that gets you the correct stitch gauge.
If you're substituting with yarns that are significantly different from the recommended yarn, switching linen for wool for example, the gauge will be different, too. In these cases, swatch to find a fabric you like.
A common mistake I see is knitting shawls with too small needles.
The needle size mentioned in the yarn labels usually refer to garments like socks or sweaters. But with shawls, we want a loose fabric with fabulous drape. So don't be afraid to go up in needle size to get the right gauge. Your finished shawl will thank you!