New pattern sneak peek: Winter Berries shawl
November 9, 2018
By Janina Kallio
---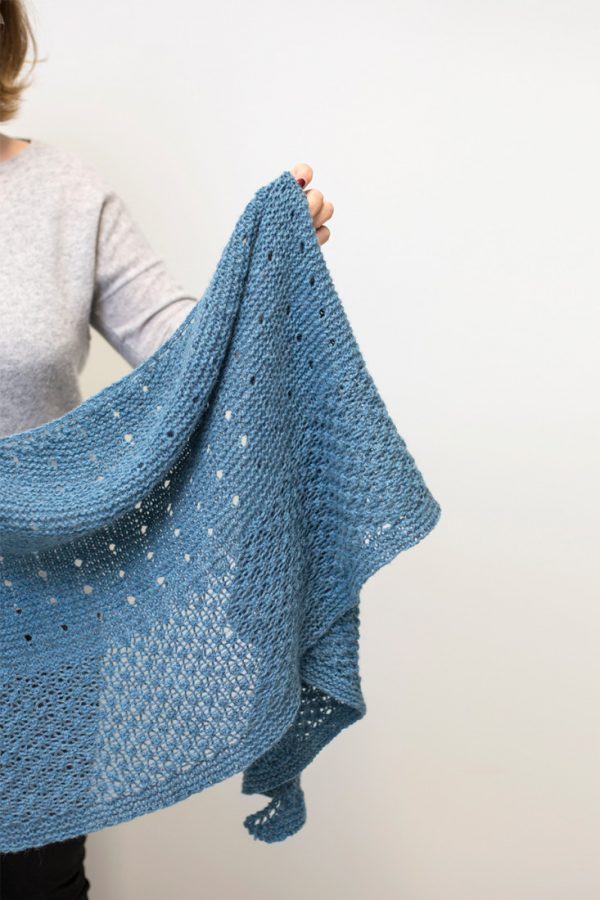 I asked for yarn recommendations from my e-letter subscribers a while ago, and DK weight was a popular choice. And I agree. The resulting shawl is warm and cosy, but it won't be too heavy even if your winters are milder than our Finnish ones.
Using DK weight yarn for Winter Berries gave me an opportunity to work with The Fibre Co. Lore.
I've wanted to try this new yarn as soon as it came out and it didn't disappoint. It feels very appropriate for winter, all woolly and warm. The colour palette is gorgeous, and with winter on my mind, I chose a beautiful blue shade called Calm for my shawl.
If you're using the same yarn, you'll need 3 skeins of Lore. And if you're substituting with another DK weight, you'll need approximately 750 m / 819 yds of it.
We had a photo shoot for Winter Berries on Wednesday, and (as usual) I was knitting it to the last minute.
Even though this time there were two of us knitting, like I shared previously on this post. I blocked the shawl the night before the shoot. But with the rainy weather here in Helsinki, it wasn't quite dry in the morning and I couldn't take it off the blocking mats. But that's what hair dryers are for, right? So there I am, on all fours on our living room floor at 9 am blow drying the shawl as a couple of painters walk in. "Uhm, are you drying a rug?" I wish you could've seen their faces!
Winter Berries goes live next week and it's only available to Shawl Club members until January 2019. If you're already a member, you'll get an email with a download link as soon as the pattern goes live.
If you're not a member yet, it's not too late to join! You'll get the three previous patterns immediately and I'll send Winter Berries to your inbox and Ravelry library next week. I hope you'll join us!
Learn more and join the 2018 Shawl Club here.