The wait is over! Noble Blue is finally available
March 28, 2019
By Janina Kallio
---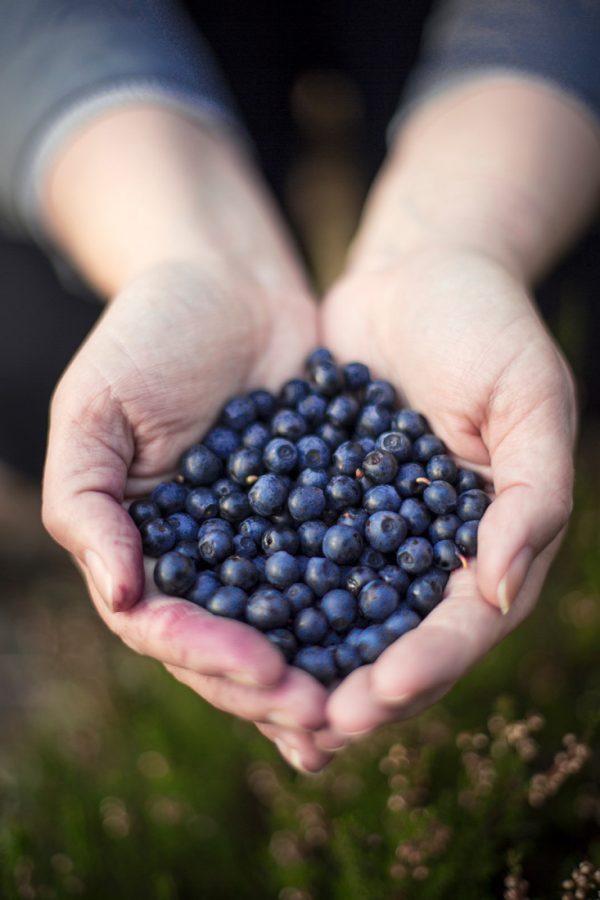 Noble Blue is finally available!
This pattern was released last summer as part of the Miss Babs 2018 Knitting Tour. Noble Blue has been exclusive to Tour members until today, and it's now finally available individually.
I was honoured to be invited to design a shawl for the Miss Babs 2018 Knitting Tour, a club with virtual destinations across the globe.
The theme for each club package was the designer's home country. The other designers were Ysolda Teague from Scotland, Jennifer Weissman from the US, and Ambah O'Brien from Australia.
For my contribution, I got my inspiration from Finland's national treasure, the blueberry.
I love picking blueberries in late summer, which is what I'm doing in the photo above, in the middle of a photo shoot for Birch Bark. (They looked so delicious I got distracted!)
Noble Blue is an asymmetric triangle shawl knitted on the bias.
Starting from one tip and working your way through to the opposite side, you alternate blocks of garter stitch and the bobble stitch pattern. And there's no need to be intimidated by these bobbles, they're quick and easy to make!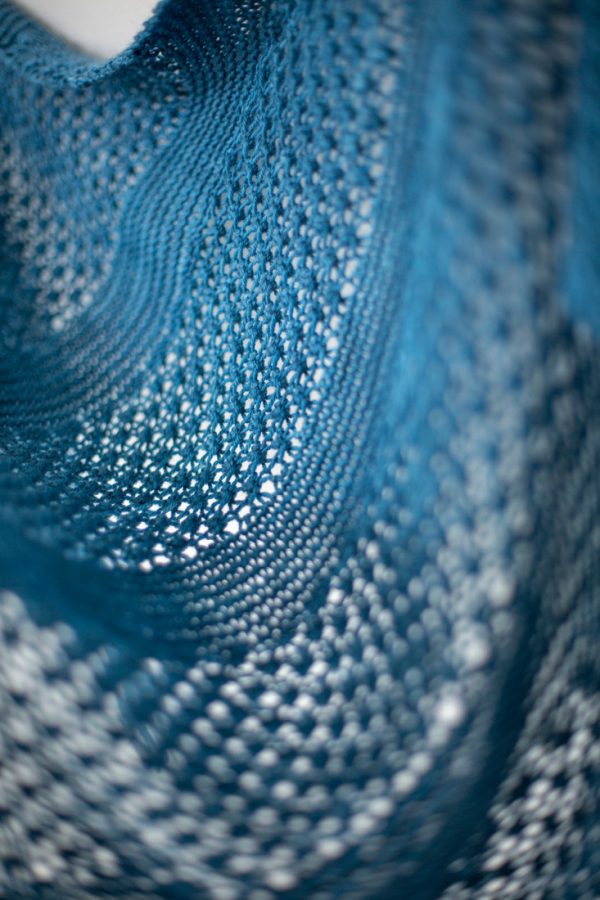 They custom dyed a gorgeous blue colourway, Blueberries, for it. The Tour members could also choose to receive a variegated skein and you can see examples of those on Ravelry.
Yowza was absolutely wonderful to work with. It's soft and smooth and has great stitch definition, which is good for showing off the gorgeous texture in Noble Blue.
And I absolutely love the big 227 g skeins it comes in. Each one has 512 m / 560 yds. Enough to make the shawl!
Yowza was previously listed as worsted weight yarn, but has now been changed to DK. So if you want to substitute, anything from DK to worsted works great. But you could also use sport or fingering weight yarn, if you like your shawls slightly smaller and lighter.
I'm definitely going to be working with this yarn again in the future. As you've probably noticed, I'm more of a solid yarn kinda girl, but in addition to the wild and flashy colourways, Miss Babs also has a stunning selection of lovely, calm colours. So many beauties to choose from.
What about you? What yarn will you choose for your Noble Blue?